Board Game News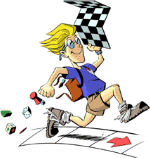 BoardGameGeek features information related to the board gaming hobby
Updated: 21 min 14 sec ago
The winners of the 2018 As d'Or — France's "game of the year" award — were announced on Thursday, February 22 on the eve of the 2018 Festival International des Jeux:
•
Michael Kiesling
's
Azul
from
Plan B Games
(and soon from Next Move Games, as explained
here
) took home the big prize, beating out
Dice Forge
,
Flamme Rouge
, and
Twin it!
• In the "expert" category,
Jacob Fryxelius
'
Terraforming Mars
from
FryxGames
and
Stronghold Games
beat
Great Western Trail
and
Arkham Horror: The Card Game
.
• In the "children's" category,
Outfoxed!
from
Shanon Lyon
,
Marisa Pena
and
Gamewright
won over
Kullerhexe
and
Boom, Bang, Gold
.
The winners on stage following the final announcement
Our livestream game demonstrations from the show on
BGG's Twitch channel
resume at 10:30 local time (GMT+1), which is 4:30 a.m. EST. Here is the
current broadcast schedule
, with more publishers being added as they stop by our booth or I catch them in the hallway.
Two weeks have passed, so Scott, Lincoln and I are back with a new episode of
The BoardGameGeek Show
. Lincoln and I talk about what we saw and played in Nürnberg, Germany while filming game overview videos at the Spielwarenmesse trade show, as well as what the show was like.
Coincidentally, at the time of this video going live on Thursday, February 22 Lincoln and I are at the Festival International des Jeux in Cannes, France, preparing to livestream game demonstrations from the show on
BGG's Twitch channel
. Here is the
current broadcast schedule
, with more publishers being added as I visit their booths and harass them. The broadcast starts at 13:30 local time (GMT+1), which is 7:30 a.m. EST.
And here's episode #4, followed by the show notes for those who want to skip ahead to something in particular:
Youtube Video
01:01 The Mind - Wolfgang Warsch - Nürnberger-Spielkarten-Verlag
10:44 The Game - Steffen Benndorf - Nürnberger-Spielkarten-Verlag
11:00 The Banishing - Sean Rumble - WizKids
11:30 Sakura - Reiner Knizia - Osprey Games
11:46 Tic Tac Moo - Jay Cormier, Sen-Foong Lim - HUCH!
12:00 Princess Jing - Roberto Fraga - Matagot
12:19 Otys - Claude Lucchini - Pearl Games/Libellud
13:27 Darkest Night - Jeremy Lennert - Victory Point Games
14:10 Rising Sun - Eric M. Lang - CMON Limited
16:55 Asmodee aquires Rebel, Lookout Games & Mayfair Games
18:00 AMIGO Games opens U.S. division
19:43 Reflections on Mayfair Games closing down
20:52 Rahdo moving back to U.S.
21:54 Nürnberg Spielwarenmesse 2018 discussion
26:55 Over 100 videos from Spielwarenmesse 2018
27:20 Kickstarter News: Finca and Endeavor crowdfund new editions
29:00 Games Workshop file uploads on BGG
29:37 Golden Geek Awards - nominations and voting opened
30:44 BGG.CON 2018 ticket availability dates
31:08 BGG.CON Spring 2018 tickets still available
32:18 Lincoln & Nikki talk with Ani & Sebastian from Germany
Let's jump into another round-up of tweets from NY Toy Fair 2018, although honestly I sent way more tweets away from the show than I did at it. While you're on site in the Javits Center, you just shoot-shoot-shoot, trying to capture everything you can in the short time available to you. Then you process everything later, at some point finally making game pages in the BGG database for all of these titles unless someone else beats you to it. Please, beat me to it.
[twitter=
https://twitter.com/BoardGameGeek/status/965312421471584258
]
I don't have a background in
Games Workshop
, so I was surprised by the enthusiasm exhibited in response to this tweet, but apparently folks have been waiting for a shorter version of
Blood Bowl
. I wish that I could tell you more than what's written above, but I shot this image after 6:00 on Saturday when everyone was already heading for the exits.
[twitter=
https://twitter.com/BoardGameGeek/status/965340599116292097
]
I didn't initially notice the "do not open" text on the card backs/packaging inside the box, but an eagle-eyed GW fan did, which hints at what kind of game experience you might discover later.
[twitter=
https://twitter.com/BoardGameGeek/status/965263848444964865
]
While some game trends at NY Toy Fair are driven by movies and other obvious cultural happenings, sometimes these yearly trends pop up unexpectedly, as with the use of blindfolds in multiple games, such as
Pandasaurus Games
'
Nyctophobia
. The short description above came from a PSI representative; here's a more complete description of this design from Catherine Stippell, courtesy of the
game's Unpub page
:
Nyctophobia is a cooperative tactile maze game for 3 – 5 players. The catch? The players are blindfolded and have to feel their way around the board.

The players play as a group of friends who went camping in a forest only to find out that the rumors of a crazy axe-wielding madman were true. Players take actions on their turn in an attempt to locate their car so they can call for help before one of them gets killed. The madman is controlled by a deck of AI cards resolved by the Moderator who oversees the gameplay (the only sighted player).
[twitter=
https://twitter.com/BoardGameGeek/status/965303584513503233
]
Here's one of the other "blindfold required" games at NY Toy Fair 2018, courtesy of Hasbro, which also offers this appetizing number:
[twitter=
https://twitter.com/BoardGameGeek/status/965346294888792064
]
This game merges two of this year's "hot" trends: blindfolds and poop. That is not a sentence I anticipated writing at any point in my life, but here we are. For the demo set-up at NY Toy Fair 2018, Hasbro reps were using plastic turds, but in the actual game you're supposed to craft artisanal poop from the clay included in the box, then hope that others destroy your work through a misplaced footstep.
[twitter=
https://twitter.com/BoardGameGeek/status/965345240461860864
]
In Europe,
Blue Orange Games
will use the box shown at right for
Who Did It?
, a game of trying to avoid blame for the animal poop found around the house. In New York, a BOG rep told me that the box was the better choice for Europe, while the friendly pile bag with the zipper would be more appropriate for the U.S. market. Having spent time looking at numerous poopy items at NY Toy Fair, I could hardly disagree.
[twitter=
https://twitter.com/BoardGameGeek/status/965203428472483841
]
To add more detail to what's above, on a turn in
Ya Blew It!
from
Wonder Forge
, the active player draws a card from the deck, then decides whether they want to take the stash or not; if not, other players in clockwise order decide whether they want to roll their dynamite stick to attempt to steal the current stash. If they roll a number present on one of the cards, then they take
all
the cards in the stash; if not, they get nothing and they're out for the round. If no one steals the stash, then active player draws another card to increase the stash.
Some of the cards provide special bonuses or abilities, everyone has a color that costs them points at game's end, and sometimes cards will force you to roll to see whether things blow up in your face and cost you gems.
[twitter=
https://twitter.com/BoardGameGeek/status/965224298641285122
]
No, really, Deadpool kept popping up in all sorts of places at NY Toy Fair 2018. I didn't check out the action figures while visiting the Hasbro rooms off-site from the Javits Center, but I've seen pictures posted by others, and it's somewhat surprising to see the toymaker embrace this "adult" superhero.
And we'll close with another sampling of tweets about which I need say no more than what's already written:
[twitter=
https://twitter.com/BoardGameGeek/status/965044161677266944
]
[twitter=
https://twitter.com/BoardGameGeek/status/965208646262185985
]
[twitter=
https://twitter.com/BoardGameGeek/status/965237701015465984
]
[twitter=
https://twitter.com/BoardGameGeek/status/965309992113975296
]
Let's check out a few more upcoming games on display at NY Toy Fair 2018, which ends today, Tuesday, February 20, starting with what might be the most anticipated game on display at the show:
[twitter=
https://twitter.com/BoardGameGeek/status/965055451988709376
]
Okay, "on display" is a bit of an overstatement given that
Gamewright
had nothing more than a box visible to highlight the upcoming release of
Matt Leacock
's
Forbidden Sky
, but this box does tell you that (1) the game comes in a box instead of a tin and (2) it contains more than would have fit in the
Forbidden Desert
tin. No, the packages won't line up nicely on your shelf, but you're getting more, so that's good, right?
Gamewright confirmed to me that this game is scheduled to debut at Gen Con 2018 in August. Fingers crossed that they make a life-size version in the air above the Indianapolis Convention Center. I'm sure they can afford the insurance for running that event...
[twitter=
https://twitter.com/BoardGameGeek/status/965057016803856384
]
Gamewright also showed off
Cahoots
, a cooperative game from
Ken Gruhl
in which 2-4 players take turns playing one of four cards in their hand on one of the four discard piles — matching color or number when they do so — in order to satisfy one of the goal cards on display. If they do, they discard that goal and draw a new one. The challenge is to make it through twelve (easy game) or sixteen (hard) goals before the deck runs out to win.
[twitter=
https://twitter.com/BoardGameGeek/status/964938805571661826
]
Bananagrams released
Big Letter Bananagrams
in 2017 with the components designed for ease of play by older players or those with limited eyesight. Lookout Games is sort of following that same model with
Patchwork Express
, which will feature larger pieces for ease of handling and visibility (as well as gameplay that will encourage positive scores, and therefore possibly better feelings for those who play).
Czech Games Edition
released a limited run of giant versions of
Codenames
and
Codenames Pictures
in late 2017 for use at conventions, and now it's planning to release
Codenames XXL
into distribution in 2018. This version is identical to the base game other than having everything be larger. Stores can use this version for demos, game groups can use it for playing with large crowds or in public spaces to attract passersby, and those with vision difficulties can use it to play without having each card read to them repeatedly.
[twitter=
https://twitter.com/BoardGameGeek/status/965674036968771586
]
For
Codenames
fans of a different stripe, this new version of
Codenames: Deep Undercover
was on display in the PSI booth. I'm not sure whether this is a revised version of the original or something new. Many times at NY Toy Fair I shoot pics, then worry about figuring out the details later.
[twitter=
https://twitter.com/BoardGameGeek/status/965031737494593538
]
Smooching in
Star Wars
? Okay, there's a bit of that I suppose, but it still seems odd to see that presented as one of the representative dice — and while you might imagine that the dice are placed in the package randomly, I don't think that's the case. Those dice are in place to sell the package through the user seeing them and instantly creating a story of their own. Who are you going to ship in
Star Wars IX: Regrets of George Lucas
? Grab one or more
Story Cubes
sets, and you can create your own screenplay.
[twitter=
https://twitter.com/BoardGameGeek/status/965033783396306949
]
The wooden token is returning to the
Jungle Speed
box. Heck, maybe it's been there recently, and I just didn't know it. It's hard to keep track of all these things...
[twitter=
https://twitter.com/BoardGameGeek/status/965035691460694016
]
This demo kit for
Ticket to Ride
is a great idea, one that other publishers should consider emulating. I've seen publishers of party games release small card packs that allow an end user to get the feel of a game, but not something like this, with the gameplay scaled down in a way that potential customers can play a full game in 10-15 minutes in the store. (This might seem like a repackaging of
Ticket to Ride: First Journey
, but it's not. Players have only 15-18 trains, true, but you have goal cards to complete for points and not a race that's challenging you to complete a certain number of tickets first.)
We'll close with a handful of tweets that can stand on their own without additional comment:
[twitter=
https://twitter.com/BoardGameGeek/status/965047261842591745
]
[twitter=
https://twitter.com/BoardGameGeek/status/965054424178675715
]
[twitter=
https://twitter.com/BoardGameGeek/status/964939633770582016
]
[twitter=
https://twitter.com/BoardGameGeek/status/964940698695938048
]
[twitter=
https://twitter.com/BoardGameGeek/status/964941102926172161
]
I zipped to Manhattan for thirty hours this past weekend to visit NY Toy Fair 2018, take pics of whatever I could, then zip home to prepare for a trip to Cannes, France where Lincoln and I will livestream game demonstrations with designers and publishers on Thursday, Friday, and Saturday, Feb. 22-24. I hope to publish a schedule of demo times at Festival International des Jeux before we go live, but I have little time to prepare before I head to the airport, so fingers crossed that the wifi on the plane will be working smoothly. Oh, yes, and my wife's birthday was Monday, so that was important, too. Busy week!
As for what was on display at NY Toy Fair 2018, I invite you to survey the
BGG Twitter feed
should you be interested in seeing everything that I posted — and I still have several dozen more pics that I hope to post soon — but for now here are a few of the highlights, starting with the company that had the strongest line-up across the board:
[twitter=
https://twitter.com/BoardGameGeek/status/965664337271672833
]
Gale Force Nine
had only a handful of new games to announce, but this one caused a lot of interest, partially because folks wondered what this means for the well-being of Prodos Games'
Alien vs Predator: The Hunt Begins
, to which I can say only that I don't know. The tweet above gives you all the info that I know at this point, and we'll get more details in the future. Again, thirty hours total in NYC, including for eating and sleeping.
[twitter=
https://twitter.com/BoardGameGeek/status/965662644534431745
]
Secrecy is something you encounter again and again at NY Toy Fair, mostly because many game publishers are partnering with the owners of one IP or another, and they can't talk about that IP until the owner gives them the okay. Thus, GF9 announced that it's releasing a
D&D
game in August 2018, but since Wizards of the Coast has revealed no details of the new setting or storyline, GF9 can say nothing about the game's contents. You learn that you can't play it solitaire, but beyond that...zippo.
Would you prefer that a publisher say nothing unless it can talk about a game in full? Some do this, as with the thing that I did not expect to see at all and that I doubt anyone else would have expected to see, but I can't say a thing about it, so in the end I'm teasing you for absolutely no reason other than to make you feel what the NY Toy Fair experience is like sometimes. You look behind the curtain — sometimes literally — then you place all that info behind a curtain in your mind until you get the "all clear" later.
[twitter=
https://twitter.com/BoardGameGeek/status/965666445660213248
]
Star Trek: Ascendancy
will see two more player expansions in 2018. No details beyond the covers and the Q2 and Q4 release dates for now, but for some of you those covers will be all you'll need to make a decision.
[twitter=
https://twitter.com/BoardGameGeek/status/965066855655329792
]
Each of the
Doctor Who: Time of the Daleks
expansion packs contains two Doctors, as well as components related to the television series of those Doctors, but you don't need to use those particular Doctors in gameplay. You can shuffle all the location or dilemma tiles together, then just see who ends up doing what where.
[twitter=
https://twitter.com/BoardGameGeek/status/964943084093091845
]
Firefly Adventures: Brigands and Browncoats
is shipping to stores at the end of February 2018, with each of the two expansions planned for 2018 including two new characters. As I note in the tweet, the paper storage containers in the box are meant to serve as buildings or obstacles in play, which is a neat double use for those items, especially since that means GF9 can effectively have more components than you might expect in the box since the components are themselves storage.
What's more, the entire box bottom can itself serve as a tile in the game, giving you an additional gaming surface, and the box bottoms of the expansions will function in the same way.
[twitter=
https://twitter.com/BoardGameGeek/status/965011986219225088
]
I already referred to my most unexpected game above, but I can talk more about my second most unexpected game since ThinkFun was quite open with it, with
Shadows in the Forest
being a new edition of
Walter Kraul
's
Waldschattenspiel
, an obscure German game more than thirty years old that far more people have heard about than ever played.
In the game, one player pushes a lit candle around the board, trying to reveal dwarves with the light because if they're revealed, they can't move until another dwarf touches them and frees them. All players but one represent the dwarves, and to win the game, they must gather together by one of the trees on the game board. The candle player must freeze all of the dwarves to prevent this from happening.
Due to safety regulations in the U.S.,
Shadows in the Forest
will include an electric light rather than a candle, but you can do what you like in your home once you buy the game. Note that the components shown in these images — and almost all images that I shot at NY Toy Fair 2018 — are non-final. The light will be a bit taller in this game, for example, to assist in the creation of sharp shadows on the board. (I watched a short demo of gameplay in a tent in the ThinkFun booth. I was not kidding before about the curtains!) The dwarves of the original game have been replaced with "nightlings" that will look similar to what's shown below. When a nightling is revealed by the light, you take off its mask to indicate its frozen status.
[twitter=
https://twitter.com/BoardGameGeek/status/965030157403779073
]
Did
Fold-it
always seem to you like a logic puzzle disguised as a game? If so, now you can rip the mask off and buy it in its naked form. ThinkFun had a couple of other logic puzzle collections on display as well:
[twitter=
https://twitter.com/BoardGameGeek/status/965349202980233217
]
[twitter=
https://twitter.com/BoardGameGeek/status/965351149707685895
]
Let's close with one of the first pics that I tweeted from NY Toy Fair 2018:
[twitter=
https://twitter.com/BoardGameGeek/status/964897186273222662
]
Yes,
Terraforming Mars
gets another small expansion from
FryxGames
and
Stronghold Games
, with
Terraforming Mars: Prelude
due out in July/August 2018.
This expansion includes new corporation cards as well as new "prelude" cards. Stronghold's Stephen Buonocore explained that each player would begin the game with four prelude cards — possibly acquired via drafting, but I can't recall the details right now — and each player would choose two of them with which to start in play, discarding the other two. Thus, each player has more differentiation from the get-go, leading to more variability from the first round on.
Buonocore added that a larger
TM
expansion, one that's
Venus Next
-sized, is currently scheduled for release at SPIEL '18 in October.
NY Toy Fair 2018 opens on Saturday, February 17, which might be today for you depending on when you're reading these words — and if it is today, then I'm at the Javits Center taking pictures and notes about the new and upcoming games on display at the show and posting them on
BoardGameGeek's Twitter
feed.
That's all you'll get from me for the weekend as I had to leave my laptop at home to upload video files to Dropbox before Lincoln heads to Cannes, France to set up for our livestream from the Festival International des Jeux, with that coverage starting on Thursday, February 22, which is one day before that game fair opens. Lots going on, and little time in which to do it! (If any of you can convince Google to spread fiber across the RDU triangle faster, I'd appreciate it...)
• German publisher
AMIGO Spiel
has long had a presence on the U.S. gaming market, but only through games licensed by others. In 2018, though, AMIGO is finally opening a U.S. gaming division of its own: AMIGO Games, which is headquartered near Austin, Texas, and which was founded in December 2017 ahead of the closing of AMIGO's frequent U.S. publishing partner Mayfair Games, a closing detailed
here
.
AMIGO Games will launch in 2018 with twenty titles(!) in the U.S., all of which have been released previously in Europe and many of which have had prior release in the U.S., but senior product manager Ashley Ross tells me that the company is going for a different look with much of its line-up compared to what's released in Germany. The strategy games in the line-up — Tom Lehmann's
Ciúb
, Johannes Schmidauer-König's
Portal of Heroes
, and Fréderic Moyersoen's
Saboteur
,
Saboteur 2
, and
Saboteur: The Duel
, all of which are due out in Q2 2018 — will keep their familiar look because they're aimed at an audience that's already "in the know" about such games.
(Adds Ross, "we bought back all the product Mayfair had in stock. Until that sells out, the English version in stores will have the Mayfair logo. On our next production run, the boxes will have the Amigo logo as shown in the images.")
By contrast, AMIGO's family line-up of games — which includes Rudi Hoffmann's
Café International
, Wolfgang Kramer's
Escape from the Hidden Castle
(a.k.a.
Midnight Party
) and
Heimlich & Co.
, Haim Shafir's
Eye Sea
(first released in 2016 as
Brain Storm
), Heinz Meister's
Déjà Vu
, Thomas Pauli's
Double Down
(a.k.a.
Lobo 77
), and Thorsten Gimmler's
No Thanks!
, all of which are scheduled for release in August 2018 — have a retro look that recalls the U.S. game industry of the 1960s.
Of particular interest to BGGers might be
Take Five & Take A Number
, which combines Wolfgang Kramer's
6 nimmt!
and Kramer and Reinhard Staupe's
X nimmt!
in a single package. Why not since they have so much overlap in their components?
The rest of AMIGO's line-up is children's games, or perhaps a more descriptive term would be "games by
Haim Shafir
", since he's responsible for designing or co-designing most of them, including
CLACK!
,
Ring-A-Ding-Ding
,
Connect the Thoughts
(a.k.a.
Huddelmuddel
), and
Fruit Punch
, which is what AMIGO is now calling
Halli Galli
in the U.S. This latter box bears the tagline "Spot five and bop the banana!" because the box contains a squeaky banana instead of the traditional bell. Sacrilege!
Another title in the children's line is Bob Lindner's
Engine, Engine No. 9
, which debuted in 2010 in Germany as
Voll in Fahrt
.
• U.S. publisher
Gamewright
has released a list of the game it plans to release in 2018, but right now the description of each item is brief, which doesn't give much in the way of flavor, and the images are teensy as well. Matt Leacock's
Forbidden Sky
— already
teased in this late January 2018 post
— is the highlight of the bunch for gamers, but folks might also want to check out
Zoinx!
, a dice game in which you bet on what you think others will roll, with those players being able to press their luck at the risk of failing and rewarding your instead.
• Gamewright has also picked up
Michael
and
Lisa Eskue
's
Trash Pandas
for publication in Q3 2018, with this title having first appeared through the Eskues' own
Red Rook Games
with funding via Indiegogo. In the game, player raccoons dig through trash cans (via a die roll) to score food and shiny objects, but you need to balance your greed for more each round against the risk of crashing and coming away with empty paws.
• Another Gamewright title possibly of interest to gamers is
Cahoots
, a cooperative game due out Q2 2018 in which players need to play cards onto 1-4 piles by matching color or number to complete a series of goals without communicating what they hold in hand. Asks the publisher: "Can you make all piles purple or green? Every card lower than four? All cards add up to ten?" Answers the writer: I do not know. More details, please.
• Gamewright's
Long Cow
falls into the familiar family game genre that requires you to manipulate farm animals. In more detail:
Build cows by collecting heads, tails, and middles from the deck. The longer the cow, the more points you score. Bolster your barn with holy cows, robot cows, and even a cross-bred Franken-cow — but make hay before your herd is hit by a tornado, or worse, an alien abduction! Round up the biggest bovines and party like the cows came home!